Cutting Edge Since 1962
Since 1962, Argus has enabled our customers to leverage their success by delivering cutting edge materials; servicing markets from agriculture to aerospace. Headquartered in Winnipeg, Manitoba, with a branch plant in Pickering, Ontario, we are a custom manufacturer of rubber molded products, die cut & CNC cut gaskets, seals and more.
Continuous Improvement is Our Mantra
Making tomorrow better than today is our philosophy of how we get things done. We have earned a global reputation for our culture, processes and systems. As a privately owned SME we are proud to offer an unrivalled level of service built on lean principles and continuous improvement.
---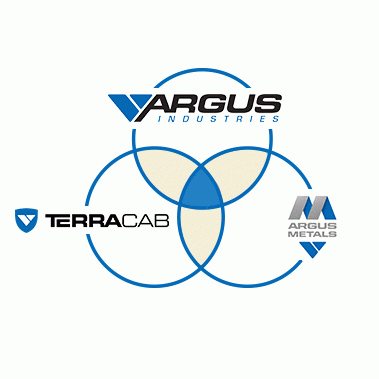 The Argus Group of Companies
Multiple Industries, Divisions and Materials
Our three companies – Argus Industries, Argus Metals Division, and TerraCab – share synergies and resources offering innovation to help our customers achieve their goals and objectives.  With our capabilities and our multiple manufacturing processes, Argus delivers cutting edge results.
---
Worldwide Reach from the Heart of North America
Our industrial manufacturing facility is strategically located in the heart of the continent: Winnipeg, Manitoba. In addition, our supporting branch office is located in Pickering, Ontario.
Three Divisions Working as One
We operate a Molding Division, Fabrication Division and a Distribution Division. Within these divisions, we have several rubber and plastic injection molding presses, die cutting presses and a variety of material conversion equipment including a CNC slitting machine and a custom closure foam hot-melt adhesive system.
---
Our Crew Makes it All Happen
We understand what it takes to compete in todays changing markets and promise to provide the cutting edge results you expect.  We invite you to be a part of our crew culture and experience it for yourself.
Read About Our Unique Culture